Find the best trading platform. You capital is at risk when trading. Be careful.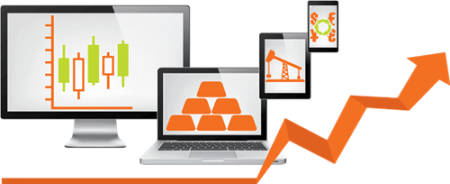 A forex demo account is one of the most powerful tools to help you get better at forex trading. Sometimes demo accounts are called simulation accounts or test counts. Whatever you decide to call it, a forex demo account is always the same thing: a trading account with virtual money that you can use for risk-free trading under real market conditions.
In fact, a demo account is so practical that we all have active demo accounts with every broker we use, and trust us when we say that we use them often.
Demo accounts offer three main solutions. First and foremost, it's a tool used by beginners to learn how to trade forex. Second, it's a tool that can be used to assess and evaluate new brokers. And lastly, it's a tool that can be used to develop and test forex trading strategies.
Because of this, we always recommend that everyone who's looking to trade forex opens a demo account. In order, to explain the reasons why even further we decided to dedicate this section to everything related to forex demo accounts.
How Does a Demo Account Work?
A forex demo account is basically a copy of a regular trading account with a few differences. The biggest difference is that you never deposit your own money into the account but instead use virtual money.
Today, most traders offer 10,000 USD or more for their demo accounts. The amount of virtual money is often refilled when it drops below a certain level. Some accounts are not refilled and they are called limited trading accounts. Usually, a demo account gives you access to all the tools and services that the broker offers; even those that you have to pay extra for if using a regular trading account.
Offering premium tools and services to demo traders is a sales technique used by the brokers to get you to open a real trading account.
Demo Accounts and Their Different Uses
Most people assume that demo accounts are only for beginners, but that is not entirely true. Of course, a demo account can be very useful for a beginner but they fill plenty of other practical functions as well. In the beginning, we mentioned that we all use demo accounts even though we have several years of experience from the market.
What we're trying to emphasize is that forex demo accounts are not exclusively used by green traders.
Demo Account Beginner
Obviously, the benefits of using a demo account as a beginner are many, the most important being the aspect of risk-free trading under actual market conditions. However, demo accounts are also a great way to evaluate forex trading in general while trying to figure out if it's a form of trading that will fit you.
A demo account should also be used as practice so that you are not a complete novice when you do your first real deposit and start trading from your hard earned cash. This aspect is especially important since it was completely unthinkable a few years ago.
Back in the days, no one got to practice trading in a risk-free environment, which means that you have an advantage to all traders that have come before you. Just imagine how costly it can get trying to learn forex trading by trial and error.
Assessing Brokers
Demo accounts offer a practical solution to a substantial issue on the forex market. Currently, there are hundreds, if not thousands, of forex brokers. Thus, it can be very hard to figure out who you can trust and who you should avoid. You can always trust our recommendations and a good rule of thumb is that any broker that offers a free demo account can be trusted. A scam broker would never offer free tools since they wouldn't make any money from that.
After you've found a few brokers that you feel comfortable working with, the next step is to open a demo account with them. You should then use your demo account to evaluate the broker in general, the tools, the selection of currency pairs, etc. Are you looking for a forex broker in the UK? Or South Africa? Make sure you test the broker thoroughly to make sure that the broker fits all of your needs.
Remember that the best brokers are listed in our recommendations and that our detailed reviews are a great resource for anyone looking for a new forex broker.
Strategy Development Using a Demo Account
The third most important use of a demo account is strategy development. Anyone looking to become successful at currency trading must use a trading strategy. There are hundreds of books to read about different strategies, and there are even more YouTube videos to watch on the subject. However, in the end, it is important that you develop your own strategies based on your preferences and needs.
In the past, traders were forced to develop strategies by testing them with real money using their regular trading account. It was a costly process and something traders with less money often avoided. Luckily enough, the introduction of demo accounts has made it much easier. Most brokers also make it easy to switch between your demo account and trading account making this process even easier.
Our Recommended Brokers Demo Accounts
A big part of our strategy to help you become better at forex trading is recommending reliable brokers. In order to help you decide which brokers demo account you would prefer, we will compare them for you.
We've already mentioned that a demo account can be limited or unlimited (preferred), and that is usually the biggest difference. The amount of virtual money offered can also different but it doesn't really matter if you use an unlimited account. Another thing to look out for is if the demo account is free. We like to avoid demo accounts that require a minimum deposit to be activated.
Below you'll find a list of our recommended brokers and the demo accounts they offer. Remember that this is only a quick overview and that you can read a detailed review of every broker by clicking the appropriate link.
Avatrade demo account – offers a demo account with 200,000 EUR which is one of the biggest amounts we've come across.
BDSwiss demo account – offers a demo account for forex trading but you need to contact their customer service to activate it and the terms often change.
ETX Capital demo account – offers two different forex demo accounts. One is developed for the trading platform called MetaTrader 4 (MTS) and the other one is for the platform called TraderPro.
IG Markets demo account – offers a free and unlimited demo account with 10,000 USD.
Plus500 demo account – (CFD broker) also offers an unlimited demo account that gives you access to all their industry-leading tools. Your capital is at risk.
eToro demo account – offers an unlimited demo account but you have to open a regular trading account before you get access to your virtual money.
FxPro demo account– offers demo accounts for MT5, MT4, and cTrader. The accounts are unlimited with up to 200,000 USD at the time and leverage reaching 1:500.
Markets.com demo account – offers what we consider to be the best demo account on the market. The Markets.com forex demo account comes with 10,000 USD that gets topped up when needed.
The Disadvantages of a Demo Account and Why it Doesn't Matter
Like every good thing in life, demo accounts have their disadvantages. Even though the pros far outweigh the cons, we thought we'd take the time to address the cons as well.
The biggest disadvantage with a demo account is that humans have a tendency to get reckless with free money. Because of this, many traders start acting cocky and take big risks with their demo account. This tends to result in them losing large sums when they adopt those strategies to their regular trading. Be careful to not spend too much when switching from demo trading to regular trading. Always start with smaller sums and work your way up.
With that said, we want to add that the majority of traders that use demo accounts can do so without getting reckless. For most traders, a demo account is a useful tool that helps them improve their skills. If you learn how to properly use a demo account, you will get an enormous advantage that can take your trading to the next level.
Conclusion
A forex demo account is a valuable tool that we recommend to everyone. By opening a demo account with your preferred broker, you'll gain access to a large sum of virtual money that you can use to trade in a risk-free environment under real market conditions. In our opinion, a demo account is the easiest way to gain experience and test trading strategies, but also a good way to analyze the market.
To reiterate, if you don't have a demo account you need to get one ASAP. It doesn't matter how much experience you have. If you are already trading forex with a broker, we recommend that you open a demo account with them. If you are a complete beginner, we propose that you start by opening a demo account with one of our recommended brokers.
Markets.com is a versatile and beginner friendly broker with an amazing demo account that we use ourselves.
Find the best trading platform. You capital is at risk when trading. Be careful.