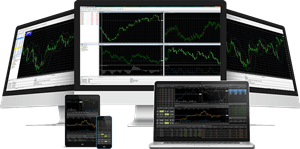 Looking for the best trading platform on the planet? Welcome to the most awesome list of regulated and safe brokers for your stock, forex, crypto, EFT och CFD trading. Visit the broker or read out reviews. In this list, you'll find no weak options or scams, they have been left outside. Instead, we bring you the biggest, safest and best trading platforms readily available on the web.
If you can't find what you are looking for here, you can't find it at all.
Trading Platforms Toplist
Find the best trading platform. You capital is at risk when trading. Be careful.
Pick the Best Trading Platform for You
We have ranked all the brokers listed on this website based on platform, fees, assets, support and much more, however, at the end of the day, these are our subjective view of these trading platforms. In order for you to be able to identify what trading platform is the best one for you, we highly recommend that you:
Read our review
Read other peoples reviews
Check or ask around on forums
Ask friends
Assets Will be Different on Every Platform
All trading platforms today have their own tradable assets, meaning Plus500 is offering up to 2000 assets while other brokers might only offer 100 assets. What do you want to trade? This will largely affect what trading platform you end up choosing.
Also, it's not only the number of assets that differ between the trading platforms but also the assets themselves. For example, IQ Option has decided to focus their selection on stocks and cryptocurrencies, however, they don't offer so many commodities or any bonds. Markets.com, on the other hand, has over 2,000 assets on most asset classes with a focus on forex trading, but not nearly as many cryptocurrencies as IQ Option. Moreover, some other brokers don't offer cryptocurrencies at all, and some offer a large selection of ETFs. We think you get the picture.
Because of this, we advise you to really think well about what you want to trade before you make a final decision. Otherwise, you might end up with a broker that doesn't fulfill your needs and you'll end up getting bored.
Every review that we have written contains a detailed summary of all the instruments and assets that a particular broker offers so that you can quickly determine if they have what you're looking for.
Trading Platforms
Another major selling point for a broker is what platforms they offer, and in some cases what platforms they don't offer.
Generally speaking, a broker has two options. They can either develop their own trading platform or they can offer a platform developed by a third party. Now, both of these options can be really good and really bad, and the best trading platforms in the world can be found in both categories.
Let us explain a little further.
Third-party platforms
When talking about the best trading platforms, and especially the best forex trading platforms, most people would agree that the MetaTrader 4 is the best. The MetaTrader 4 was developed by MetaQuotes and is a third-party platform. That means that many brokers offer it and they essentially have the same platform.
In our opinion, the following three brokers are the best MetaTrader 4 brokers. Click the links to see the full reviews.
IG Markets Review – IG Markets is one of the most popular and well-established forex and CFD-brokers on the planet.
24Option Review – 24Option is an excellent broker and one of our personal favorites.
Trade.com Review – This broker is not as well-known but definitely one of the better brokers out there.
You can see a full list of MetaTrader 4 brokers here.
Another popular trading platform is the sister platform of the MT4. It's called MetaTrader 5 and was developed by the same company as the MetaTrader 4. The difference between the two platform is that the MT5 is better suited for CFD trading than forex and it has a few unique analytic tools and features. Check out our MetaTrader 5 guide to read more about the brokers that offer this platform. We only know of one broker that only offers MT5 and that's Markets.com.
Sirix used to be one of the best trading platforms for binary options and CFDs, but lately, it has become less and less popular.
Proprietary Platforms
If a broker doesn't want to offer third-party software they have to develop their own platform. This is not an easy task, and many times the broker fails and it affects their overall product. However, in some cases, the broker manages to develop trading platforms that are absolutely incredible to the point where they can compete with the MetaTrader 4 and 5.
Below are the brokers that we consider to have the best proprietary trading platforms in the CFD and forex industry right now. Click the links to read out comprehensive reviews.
Plus500 Review – Plus500 is one of the best brokers in the world, period. They constantly get awarded for their incredible trading platform, and we honestly think it could be one of the best platforms out there.
IQ Option Review – This broker recently went through a serious facelift, and since then their platform has become one of the easiest and best designed in the business.
eToro Review – No one can compete with eToro when it comes to social copy trading, and their platform is a unique software that can take anyone's trading to the next level.
Combination Platforms
In addition to the two options we mentioned above, a broker has the option of offering several platforms. In fact, most brokers today actually offer more than one platform in order to accommodate as many traders as possible.
Certain brokers combine third-party platforms such as the MetaTrader 4 and 5. Other brokers combine their own software with another leading platform.
Below we've listed the five brokers that we think have done the best job in offering a combination of trading platforms. Click the links to get redirected to our broker reviews.
Demo Accounts
Does it feel overwhelming with all of these options? We understand, finding the best trading platform is not an easy project. However, there is one thing that can make the decision process easier for you.
Every broker that we've mentioned above offers something called
. A demo account is a replica of a live trading account, but you use virtual money instead. This means that you can test a trading platform out before deciding whether or not the broker is for you and if you like the platform.
Signing up for a demo account is easy and usually only requires you to provide your email address and name, and in most cases, they are completely free and unlimited. We have made a list of all the MetaTrader 4 demo account brokers, and you can read more about this in our reviews.
Summary of the Best Trading Platforms
Your trading experience will to a very large extent be affected by which trading platform you use. Now, there are several different platforms out there and they all fill different purposes which can make it hard to determine which one is the best for you. It's important that you
understand that there is no right or wrong here, some platforms suit certain traders better than others. In the end, it's a personal choice, and you get to decide on the best trading platform for you and your needs.
Just remember to check that the assets you want to trade are available, that the broker is regulated and safe to use, and that you feel comfortable with their product.
And don't forget, if you're not sure if you like a broker or not you can always sign up for a demo account and take the trading platform for a test drive.